Just got back from a two-week shoot in Azerbaijan with the incomparable Marcy! This woman has so many fans and receives the best care packages! Here she is with the motherlode package from her aunt and uncle in Hawaii, complete with the makings for SPAM musubi (i.e. SPAM in a sushi roll), a Japanese-Hawaiian tradition. I had some and report that it was surprisingly awesome despite Marcy's heavy hand with the salt

. Fortunately I found out that when she left California she made room in her bag — even with the highly restrictive weight limit imposed by Peace Corps — for her rice cooker!
Public Service Announcement to friends and family of PCVs: If you get the flat rate box at the post office, you can fill it up with all of this for only $60 and send anywhere in the world! Your PCV and his/her community will NOT be disappointed to unpack a box full of recent People magazines, muffin mixes, American chewing gum and batteries and the all-important Ziploc bags.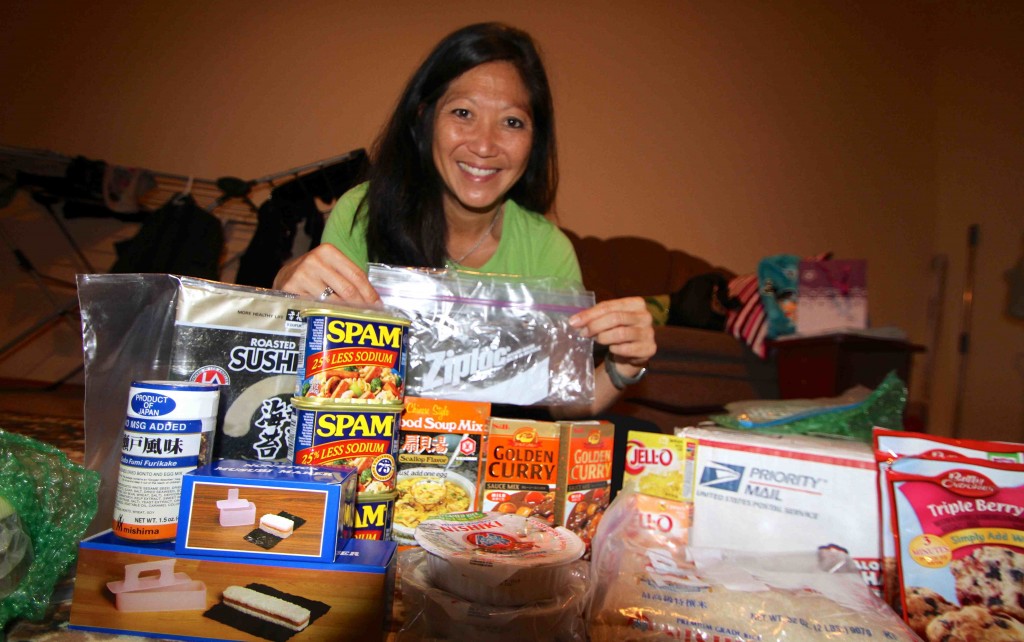 So, my trip was a blur of near-100 degree days, two weddings, a visit to a mother-child summer camp in Ismayilli, trips to Baku and a Caspian Dreamers concert. We even made it north to Sheki for the 1st ever Run the Silk Road 5K started by the Regional Women's Initiative Social Union and sponsored by the Peace Corps. Despite the torrential ran and bitter cold, I was at the finish line to see a handful of spirited teenage girls (some in headscarves and heavy clothing) and a swarm of expatriate Europeans and Americans clad in spandex speed up the final hill. It feels like we filmed everywhere and met almost everyone in Azerbaijan! Here is Marcy with her host brother and bride at their wedding.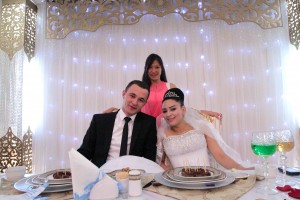 There is no doubt Azerbaijan is an exciting place to be right now. So much is changing, and it's not just because this has become an important oil country. Listen to the NPR story about the country's boom. The country recently hosted the Amazing Race , the FIFA U17 Women's World Cup and EuroVision Song Contest where Sabina Babayeva, a staple of local radio, represented the country.
There is investment (and building cranes) everywhere. The capital of Baku sports many new gleaming (and often unoccupied) office towers and a broad waterfront promenade with high end restaurants not unlike San Francisco's Embarcadero. However, it's less than an hour past the nodding donkeys (oil pumps) to Marcy's city of Sumgayit which shows the scars of Soviet industry. But, Sumgayit is changing too. I'm excited to get back there in February and see it under the magic of six feet of snow I've heard about!